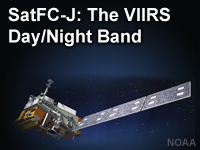 Take the quiz?

Share this resource:
This lesson introduces the innovative Day/Night Band (DNB). Producing both daytime and nighttime visible images, the unique aspect of the DNB is its nocturnal low-light imaging capability. It views reflected moonlight from clouds and Earth's surface, surface light emissions from various natural sources (such as fires) and anthropogenic sources (such as city lights and gas flares), and even from certain atmospheric light emissions such as the aurora, airglow, and lightning flashes.
The lesson describes the capabilities and benefits of the DNB, in particular using the Near-Constant Contrast (NCC) product, available in the NWS' AWIPS-2 (Advanced Weather Interactive Processing System). It also explores key features that can be seen in DNB imagery throughout the lunar cycle, and some practical uses of this imagery.
This lesson is part of the Satellite Foundational Course for JPSS (SatFC-J).