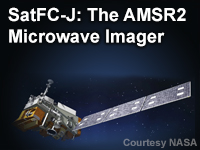 Take the quiz?

Share this resource:
This short lesson describes the Advanced Microwave Scanning Radiometer 2 (AMSR2) on board the next-generation polar-orbiting satellite platforms. AMSR2's primary mission is to improve scientists' understanding of climate by providing estimates of precipitation, water vapor, cloud water, wind velocity, sea surface temperature, sea ice concentration, snow depth, and soil moisture. AMSR2 also advances weather forecasting through real-time imagery, value-added products, and input to numerical weather prediction.
This lesson is part of the Satellite Foundational Course for JPSS (SatFC-J).