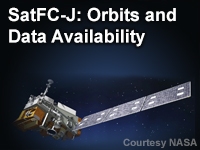 Take the quiz?

Share this resource:
This lesson presents a brief overview of NOAA's operational low Earth orbiting satellites, focusing on how their orbits define observational coverage and how ground receiving capabilities impact data latency from the observation time to product availability.
This lesson is part of the Satellite Foundational Course for JPSS (SatFC-J).