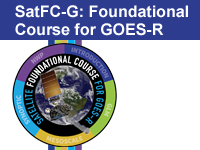 This content is not hosted on MetEd.
No quiz for this resource

Share this resource:
The Satellite Foundational Course for GOES-R (SatFC-G) is a series of nearly 40 lessons designed specifically for National Weather Service (NWS) forecasters and decision makers to prepare for the U.S.' next-generation geostationary environmental satellites. The course is intended to help learners develop or improve their understanding of the capabilities, value, and anticipated benefits from the GOES-R suite of instruments. These instruments and imagery offer improved monitoring of meteorological, environmental, climatological, and space weather phenomena and related hazards. The course will also help prepare the learner for future exploration and use of GOES-R products in meteorological analysis and forecasting, and in other disciplines that involve environmental monitoring and prediction.

The lessons are accessible through the VISIT/SHyMet website. [Note that NOAA personnel should access the lessons through the Commerce Learning Center (CLC).] Training developers include VISIT/SHyMet staff from the Cooperative Institutes at CIMSS and CIRA; COMET; the Cooperative Institute for Mesoscale Meteorological Studies (CIMMS); the Short-term Prediction Research and Transition Center (SPoRT); and the NWS Office of the Chief Learning Officer (OCLO).