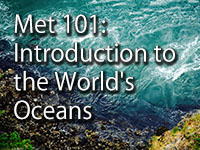 Languages: English
Publish Date: 2017-02-09
Skill Level:

0 '

Completion Time: .25 - .50 h
Includes Audio: no
Required Plugins: none
Reviews:

(1 review)

Read or add reviews

Take the quiz?

Share this resource:
This short lesson provides an overview of the world's oceans, including information about geography, physical properties, major currents, and the effects of oceans on weather and climate. Brief information about wind waves, swell, and tides and the drivers of each of these phenomena are included along with an introduction to ocean measurements.