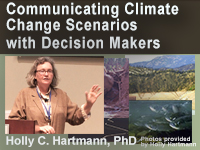 No quiz for this resource

Share this resource:
In this 1-hour lecture, presented in three parts, research hydrologist Dr. Holly Hartmann discusses issues and approaches for communicating with decision-makers regarding climate change topics in water management and planning. Dr. Hartmann is a national leader in research related to the development of decision support tools for climate, water, and other resource management applications, especially linking research with the needs of decision-makers and moving research into agency operations. Dr. Hartmann is Carpe Diem West's Director of Climate Science Applications. Previously she was Director of the Arid Lands Information Center at the University of Arizona (UA). She is a co-investigator within the Climate Assessment for the Southwest (CLIMAS) and leads the scenario development team within the UA Science and Technology Center for the Sustainability of Semi-Arid Hydrology and Riparian Areas (SAHRA). This presentation was given as part of the Integrating Climate Change into Longer-term Water Resources Planning and Environmental Compliance class, offered 2-4 May 2016, in collaboration between The COMET Program, the U.S. Bureau of Reclamation, and the U.S. Army Corps of Engineers.