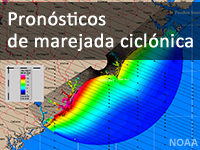 Publish Date: 2016-11-10
Last Updated On: 2017-06-14
Skill Level:

2

Completion Time: .75 - 1.00 h
Includes Audio: no
Required Plugins: none
Overall Rating:

(5 ratings)

Read or add reviews

Take the quiz?

Share this resource:
Explicar cómo se crea la guía probabilística de marejada y por qué, a la luz de las suposiciones y los posibles errores asociados con las predicciones deterministas, es preferible a los productos de guía exclusivamente deterministas para eventos específicos.
Explicar los diferentes formatos de la guía probabilística de marejada y describir los propósitos y el uso de cada uno de ellos.
Explicar cómo se obtienen los productos expansión máxima del agua (Maximum Envelope of Water, MEOW) y máximo de MEOW (Maximum of the MEOW, MOM), así como describir su propósito y sus usos.
Usar la guía de marejada y la correspondiente salida en distintos formatos (p. ej.: MEOW, MOM, guía probabilística de marejada) y en las distintas etapas del evento.