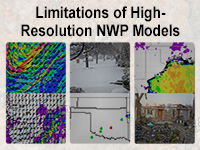 Languages: English
Publish Date: 2017-04-06
Skill Level:

2

Completion Time: .50 - .75 h
Includes Audio: no
Required Plugins: none
Overall Rating:

(159 ratings)

Read or add reviews

Take the quiz?

Share this resource:
This scenario-based lesson examines how the limitations of high-resolution NWP forecasts affect their analyses and forecasts of winter and severe weather, and how best to use the output in light of the limitations. The lesson is structured around a case that occurred in Texas in December 2015 when winter weather and severe weather hit Amarillo and Dallas-Ft. Worth, respectively. As users go through the case, they learn how spin-up time, errors in initial conditions, and deficiencies in the modeling of mesoscale phenomena can impact high-resolution forecasts in the NAM nest and HRRR models.