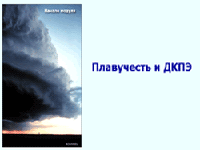 No quiz for this resource

Share this resource:
This is a Russian translation of the COMET module, Buoyancy and CAPE, which is part of the Mesoscale Primer series. Topics covered include the origin of atmospheric buoyancy, estimating buoyancy using the CAPE and Lifted Index, factors that affect buoyancy including entrainment of mid-level air, water loading, and convective inhibition, and the origin of convective downdrafts. The translation was done by Edward Podgaisky, who visited COMET in 2003 as a IREX grant recipient to study distance learning delivery in meteorology.