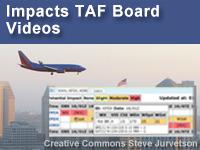 This content is not hosted on MetEd.
No quiz for this resource

Share this resource:
This series of videos, produced in collaboration with NOAA and the FAA, provides an introduction to the new Impacts TAF Board tactical decision aid.
Introducing the Impacts TAF Board (3:00)
The new Aviation Weather Center (AWC) Impacts TAF Board helps aviation professionals easily monitor when and where airport operations will be impacted by the weather. This video introduces the history, purpose and benefits of the board.
Using the Impacts TAF Board (4:20)
This video explores the Impacts TAF Board website and explains the key elements of the board and how to use them.