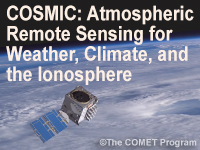 This content is not hosted on MetEd.
No quiz for this resource

Share this resource:
This video provides an introduction to the Constellation Observing System for Meteorology, Ionosphere, and Climate (COSMIC), including information about the COSMIC-2 mission. COSMIC uses a technique called radio occultation to profile temperature, water vapor, and ionospheric information within Earth's atmosphere. The high-quality, high-resolution data contribute to improvements in numerical weather prediction, hurricane forecasts, climate studies, and ionospheric analyses.
This full video resource covering COSMIC data and science is hosted on COMET's YouTube Channel. A short video highlighting the key aspects of COSMIC-2 is also available.