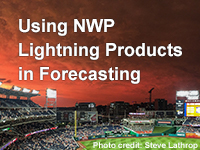 Languages: English
Publish Date: 2016-11-10
Skill Level:

2

Completion Time: .25 - .50 h
Includes Audio: no
Required Plugins: none
Overall Rating:

(149 ratings)

Read or add reviews

Take the quiz?

Share this resource:
This lesson introduces two numerical weather prediction (NWP) lightning hazard products that forecasters can use during a convective meteorological watch and to assess lightning risk at Day 2 and beyond. The first product is the Flash Rate Density, a derived, deterministic lightning product implemented in some NCEP high-resolution NWP models. The second product, the SPC Calibrated Thunderstorm Probability, combines forecasts of measurable precipitation and favorable lightning environments determined from the Cloud Physics Thunder Parameter. Information about these products is presented in the context of a case study in which learners determine the potential for lightning to impact a large outdoor event. In the process, they learn how to use the lightning products with traditional near- and nowcast diagnostics, such as radar, satellite imagery, and hourly HRRR analyses of convective instability.