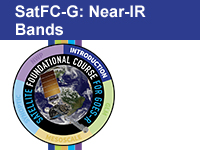 Take the quiz?

Share this resource:
This lesson introduces you to three of the four near-infrared imager bands (at 1.37, 1.6, and 2.2 micrometers) on the GOES R-U ABI (Advanced Baseline Imager), focusing on their spectral characteristics and how they affect what each band observes. For information on the 0.86 micrometer near-IR "veggie" band which is not included here, refer to the Visible and Near-IR Bands lesson.
This lesson is a part of the NWS Satellite Foundational GOES-R Course.