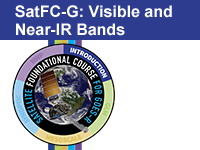 Publish Date: 2016-08-01
Last Updated On: 2018-11-07
Skill Level:

1

Completion Time: 0 - .25 h
Includes Audio: yes
Required Plugins: none
Topics:
Satellite Meteorology
Overall Rating:

(14 ratings)

Read or add reviews

Take the quiz?

Share this resource:
This lesson introduces you to the two visible and one of the near-infrared imager bands on the GOES R-U ABI (Advanced Baseline Imager), focusing on their spectral characteristics and how they affect what each band observes. Also included is a brief discussion of the customization of visible enhancements as an important consideration for improving the depiction of various features of interest.
This lesson is a part of the NWS Satellite Foundational GOES-R Course.