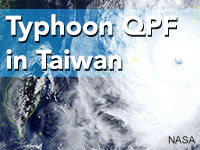 Take the quiz?

Share this resource:
This lesson (available in Chinese) introduces the typhoon QPF forecasting methodology used by the CWB, including the role played by the analogue method and the typhoon rainfall climatology model in Taiwan. The lesson discusses the advantages and limitations of the Ensemble Typhoon QPF model, and includes a case to help learners practice interpreting this guidance and summarizing it to Emergency Operation Centers.
The lesson also highlights the need to use probabilistic forecasts instead of deterministic forecasts in order to account for the uncertainties associated with typhoon forecasting.