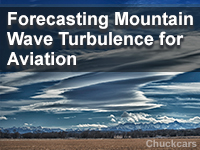 Take the quiz?

Share this resource:
After completing the lesson, you should be able to do the following:
Describe the conditions that lead to mountain wave turbulence both aloft and at low levels
Describe the different conditions that lead to a vertically propagating wave and trapped lee waves
Describe conditions that lead to strong up- and downdrafts, low-level wind shear, and rotors at lower levels
Recall the relationship between the intensity of turbulence and changes to aircraft indicated airspeed and/or net altitude
List the NWP forecast products required to forecast mountain wave turbulence for both enroute and low-level conditions.
Using the aforementioned forecast products, do the following:

Identify regions of mountain wave turbulence, both horizontally and vertically (i.e., flight level)
Estimate the intensity of the resulting turbulence.

Identify regions of likely mountain wave turbulence on satellite imagery

Recognize clouds that indicate mountain wave activity
List and describe satellite observations that reveal mountain wave activity in the absence of orographic clouds (e.g., water vapor imagery)

List in situ observations (e.g., Soundings, PIREPS, AMDAR, etc) applicable to forecasting mountain waves.

Apply in situ observations when forecasting mountain wave turbulence.

Describe the importance of communication and coordination to ensure consistency across forecast products for decision support.