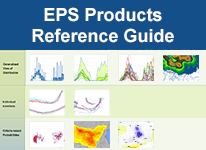 No quiz for this resource

Share this resource:
The EPS Products Reference Guide provides information about nine commonly used ensemble prediction system (EPS) products. Each has a description, tips for interpreting and using it effectively, a list of its strengths and weaknesses, and practice exercises. The Guide is meant to be used as reference material and does not have a quiz.