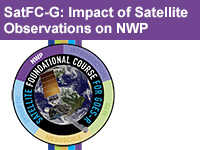 Languages: English, Spanish, Portuguese
Publish Date: 2016-08-26
Last Updated On: 2018-11-05
Skill Level:

2

Completion Time: .25 - .50 h
Includes Audio: yes
Required Plugins: none
Overall Rating:

(39 ratings)

Read or add reviews

Take the quiz?

Share this resource:
This lesson covers how satellite observations inform numerical weather prediction models. It begins with a basic overview of what satellite data types are assimilated and how, and ends with an overview of how data from new instrument's may make it into a model.
This lesson is a part of the NWS Satellite Foundational Course for GOES-R.
More in-depth discussions and a quiz on the impacts of satellite observations on NWP can be found in the COMET lesson, How Satellite Observations Impact NWP.