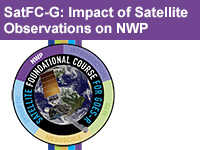 No quiz for this resource

Share this resource:
This lesson covers how satellite data inform numerical weather prediction models. From a basic overview of how satellite data is assimilated to how a new instrument's data might get into a model.
This lesson is a part of the NWS Satellite Foundation GOES-R Course.
More in-depth discussions and a quiz on the impacts of satellite observations on NWP can be found in the COMET lesson, How Satellite Observations Impact NWP.