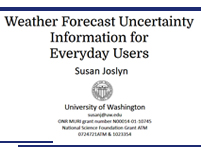 This content is not hosted on MetEd.
No quiz for this resource

Share this resource:
Although previous research suggests that we are not very good at reasoning with uncertainty, the research described in this talk is far more encouraging. Unlike earlier work that compares peoples' decisions to a rational standard, these experiments compared decisions made by people with uncertainty information to decisions made by people without uncertainty information. The results suggest that including specific numeric uncertainty estimates in weather forecasts leads to better decisions.
This talk was part of Meteorological Service of Canada's 2015 Workshop on Communicating Uncertainty to Users of Weather Forecasts precursor to the 49th CMOS Congress & 13th AMS Conference on Polar Meteorology and Oceanography.
This resource is made available courtesy of Dr. Susan Joslyn, Environment Canada, CMOS and The Eumetcal Project, and is not produced, owned or hosted by UCAR/COMET.