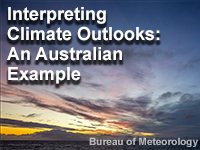 Take the quiz?

Share this resource:
Describe the main climate drivers and their influence on the Australian region.
List the outlooks produced by the Australian Bureau of Meteorology.
Identify relevant climate information for your decision.
Interpret climate outlook maps for rainfall and temperature, with a stronger focus on rainfall.
Use the climate outlook maps and the past accuracy maps to inform decisions faced by climate-sensitive industries.