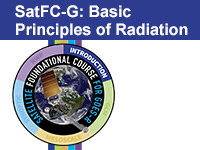 Take the quiz?

Share this resource:
This lesson is an abbreviated review of the scientific basis for using visible and infrared satellite imagery. The concepts and capabilities presented are common to most geostationary (GEO) and low-Earth orbiting (LEO) meteorological satellites. Basic remote sensing and radiative theory are reviewed using conceptual models to help organize scientific concepts. Some imagery is also included to illustrate concepts and relate them to sensor observations.
This lesson is a part of the NWS Satellite Foundational GOES-R Course.
More in-depth information on radiation and radiative transfer can be found in the COMET lesson, Basics of Visible and Infrared Remote Sensing.