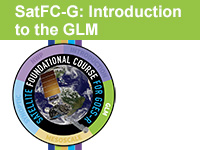 No quiz for this resource

Share this resource:
This lesson describes the need for real-time lightning information and the capabilities of the Geostationary Lightning Mapper (GLM), which will fly on the next-generation GOES-R satellites as the first operational lightning detector in geostationary orbit.
This lesson is a part of the NWS Satellite Foundation GOES-R Course.
More in-depth discussions and a quiz on the lightning flash cycle and lightning applications can be found in the COMET lesson, GOES-R GLM: Introduction to the Geostationary Lightning Mapper.