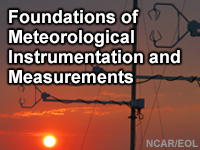 Languages: English
Publish Date: 2017-04-17
Skill Level:

1 '

Completion Time: 1.00 - 1.25 h
Includes Audio: no
Required Plugins: none
Topics:
Other
Reviews:

(25 reviews)

Read or add reviews

Take the quiz?

Share this resource:
This lesson provides an introduction to the instrumentation used for meteorological measurements. Aimed at undergraduate and graduate students in meteorology and the atmospheric sciences, it examines the types of observing systems available to measure temperature, pressure, humidity, trace gases, clouds and aerosols, winds, precipitation, and radiation. Learners will explore the main components of an instrument and become acquainted with performance characteristics including types of errors. This introductory lesson provides a foundation for more detailed training focused on measurement of specific meteorological variables.