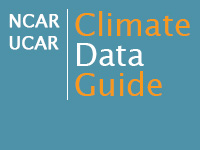 This content is not hosted on MetEd.
Languages: English
Publish Date: 2015-10-16
Skill Level:

2

Completion Time: 10.00+ h
Includes Audio: no
Required Plugins: none
Topics:
Climate
Overall Rating:

(0 ratings)

Read or add reviews

No quiz for this resource

Share this resource:
The Climate Data Guide provides concise and reliable information on the strengths and limitations of the key observational data sets, tools and methods used to evaluate Earth system models and to understand the climate system. Citable expert commentaries are authored by experienced data users and developers, enabling scientists to multiply the impacts of their work and the diverse user community to access and understand the essential data. This resource is made available courtesy of
NCAR's Climate and Global Dynamics Division
and is not produced, owned or hosted by UCAR/COMET.