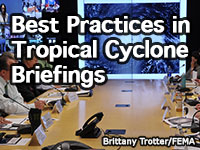 Take the quiz?

Share this resource:
Explain the importance of pre-season coordination.
Identify the decision cycle timelines and typical options that are executed by the groups receiving the briefing.
Describe the basic structure of a briefing and effective briefing content

Utilize existing NWS graphics appropriately to support your main message.

Craft clear, concise and effective messages focused on customer specific needs.
Frame the forecast message in the most effective way to enable customers/partners to make the best informed decision possible.
Tailor meteorological information according to temporal and spatial resolution needs while appreciating forecast uncertainty - throughout the event timeline of a tropical cyclone (pre-watch, watch, warning, landfall, and post landfall).
Coordinate with forecasters in other offices to ensure that a consistent forecast message is created and communicated to the public. This includes coordination between the WFO and Regional/National/International Centers including the NHC, SPC, WPC, and RFCs.