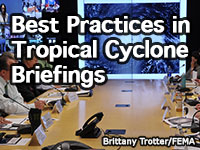 Take the quiz?

Share this resource:
Crafting clear, concise and effective messages focused on customer needs is a crucial skill in every decision-support situation. Tropical cyclones that threaten a coastline have the potential to inflict devastating damage to communities and communicating relevant weather information will assist decision-makers in their plans and preparation work.
This lesson examines how to effectively prepare for the hurricane season and then focuses on how best to support NWS partners through meteorological briefings during tropical cyclone events.
Basic familiarity with probabilistic forecast guidance is required. It is strongly recommended that users review the "Determining the Onset and Risk of Tropical Cyclone Winds," "Forecasting Tropical Cyclone Storm Surge" and "Use of Probabilistic Surge Guidance in Local Storm Surge Forecasting" lessons on MetEd before viewing this lesson.
This online lesson is part of the Tropical Cyclone Storm Winds: Forecasting and Communication and Tropical Cyclone Storm Surge: Forecasting and Communication courses.