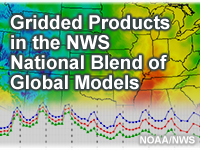 Take the quiz?

Share this resource:
Latest update 12/19/2016
Two new direct model output sources have been added for version 2 of the National Blend of Global Models (NBM): the North American Mesoscale Model and the North American Mesoscale Model Nests. These two sources provide additional data for Blend forecasts of various weather elements across different domains. Updated details of forecast frequency, resolution, data assimilation technique and other features for all direct model output sources are described. Future developments to improve the Blend and expand its suite of forecast elements are discussed at the end of the lesson.