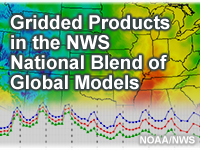 Take the quiz?

Share this resource:
After completing the lesson, you will be able to:
List the five different products used in the Blend.
Describe the model type, resolution, assimilation scheme, and number of daily cycles for each model used in the Blend.
Explain how the model guidance is interpolated to the grid level using gridded MOS and EKDMOS.
Explain the strengths and limitations of the MOS.