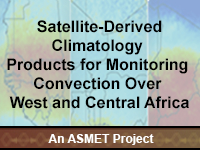 No quiz for this resource

Share this resource:
A weather forecaster's knowledge of climatology is important to the success of a forecast, especially where convection is involved. That's particularly true over Central and West Africa where convection has a strong diurnal cycle and usually develops over particular geographic regions and during specific time intervals. The lesson describes satellite-derived cloud climatology products and several global instability indices, all of which can be integrated with other products to forecast convection. Although the lesson uses examples of climatology products from specific months, it makes the full suite of products available for each month of the year. The lesson is aimed at weather forecasters and meteorology students who work in West and Central Africa and are interested in the area's weather and/or climatology. Note that the lesson has been developed with funding from EUMETSAT for the ASMET project.