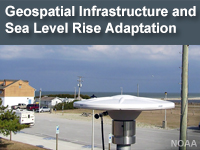 This content is not hosted on MetEd.
No quiz for this resource

Share this resource:
Aimed at community planners, emergency managers, and other coastal zone decision-makers this video will explain how using geospatial information already available through NOAA, combined with strategic local investments in infrastructure can provide communities with the data needed to confidently plan for future sea-level changes.
This resource is hosted on COMET's YouTube Channel.