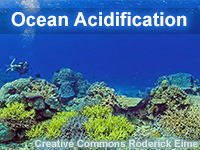 Take the quiz?

Share this resource:
The chemistry of the world's oceans is changing. Ocean acidity is creeping upward, a result of rising atmospheric carbon dioxide. The added carbon dioxide depletes seawater of carbonate, a chemical constituent of minerals that form the shells and structures of animals including corals, molluscs, plankton, and others. The accelerating impacts are expected to reverberate through the marine food web.
Most people are unaware of ocean acidification and its expected impacts. This lesson will educate policy makers and university students about its causes and consequences. The lesson explains the chemistry and examines ecosystem impacts. A review of the historic and geologic record provides context for today's observations and future projections of a high-CO2 world.