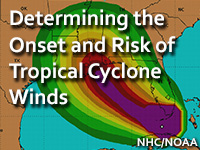 Take the quiz?

Share this resource:
This lesson introduces forecasters to the probabilistic guidance products used by the National Hurricane Center to assess tropical cyclone wind threats. It provides an overview of how these probabilistic wind speed products are created, their purposes, and how to interpret them. The lesson also provides practice in determining the total risk and timing for location-specific peak wind events.
This online lesson is part of the Tropical Cyclone Storm Winds: Forecasting and Communication course.