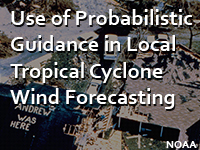 Take the quiz?

Share this resource:
This lesson describes the role of forecasters in supporting emergency managers during tropical cyclones with a focus on the wind hazards. It provides an overview of the wind speed products produced by the National Weather Service, including how they are used to create local wind forecasts. Learners will practice interpreting probabilistic wind speed guidance and conveying appropriate wind speed information to decision-makers using projected scenarios of hazardous wind events. Developing messages for emergency managers and the public that include the potential wind speed, threat, and impact information are also explored.
This online lesson is part of the Tropical Cyclone Storm Winds: Forecasting and Communication course.