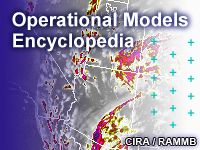 This content is not hosted on MetEd.
Languages: English
Publish Date: 2015-10-07
Skill Level:

2

Completion Time: 2.00 - 3.00 h
Includes Audio: no
Required Plugins: none
Overall Rating:

(0 ratings)

Read or add reviews

No quiz for this resource

Share this resource:
Provide operational forecasters with a single source of information on the dynamics, physical parameterizations, and other characteristics in operational numerical weather prediction (NWP) models, ensemble forecast systems (EFS), and regional and global wave models.
Provide updated content when NWP, EFS, and wave models are updated.
Provide links to lessons describing how updates to NWP, EFS, and wave models impact their use in the operational forecast process.