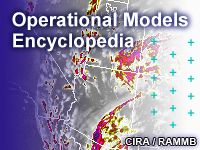 This content is not hosted on MetEd.
Languages: English
Publish Date: 2015-10-07
Skill Level:

2

Completion Time: 2.00 - 3.00 h
Includes Audio: no
Required Plugins: none
Overall Rating:

(0 ratings)

Read or add reviews

No quiz for this resource

Share this resource:
The availability of numerical guidance from NWP models has been an important component of operational forecasting for decades. For many, the output from this numerical guidance was produced by a mysterious "black box". Rules for using and adjusting the guidance for operational forecasters were often subjective "Rules of Thumb" based on experience rather than based on quantitative analysis.
To open up this "black box", we produced this web-based "Operational Models Encyclopedia" linking both generic information on how NWP models work, and specifics on physical parameterizations, dynamics, and data assimilation in operational models. Ensemble Prediction systems and Marine Wave models are included as well. Content is updated as operational models upgrades are implemented or new models are added to the operational NWP suite.
While the time estimated for completion is listed as 2-3 hours, that only applies to reviewing the full resource. Actual time spent should be much less, depending on the model component being researched.