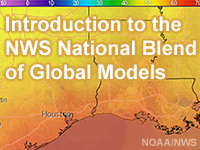 No quiz for this resource

Share this resource:
The National Blend of Global Models was developed to utilize the best available science and provide a consistent National Weather Service forecast product across the U.S. This lesson describes the background and motivation for the National Blend and includes comparisons of Blend forecasts with current guidance. The lesson also offers a short summary of future plans and training related to the National Blend.