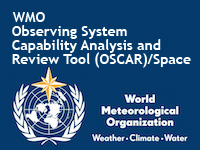 This content is not hosted on MetEd.
No quiz for this resource

Share this resource:
OSCAR/Space, the "satellite" component of the WMO OSCAR resource, contains updated quality-controlled information on past, present and future satellite missions, instruments and related characteristics, covering a period from 1960 up to 2050, which adds up to 500+ satellites and 800+ instruments dedicated to Earth Observation and Space Weather. In addition, OSCAR/Space provides expert assessments of the applicability of the various instruments for particular measurements. This resource can be used as a reference for studies, as a gap analysis tool, as support for planning, and for educational purposes. OSCAR assessments are primarily based on instrument design features. Other important criteria such as actual instrument operational status, calibration, actual data availability, should be kept in mind when using OSCAR outputs for a gap analysis.
This resource is made available courtesy of the World Meteorological Organization Space Programme and is not produced, owned or hosted by UCAR/COMET.