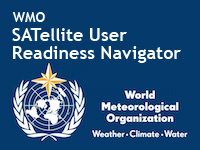 This content is not hosted on MetEd.
No quiz for this resource

Share this resource:
The SATURN (SATellite User Readiness Navigator) developed jointly by WMO and meteorological satellite operators provides unified access to information that helps users to prepare for the new generation of meteorological satellites to be launched in the 2015-2020 timeframe. Next-generation geostationary satellites are being launched by JMA, NOAA, CMA, KMA, ROSHYDROMET and EUMETSAT, with unprecedented capabilities for severe weather monitoring, nowcasting and short range forecasting, and for a number of other application areas. However, the new systems also pose unprecedented challenges to users, for example an order-of-magnitude increase in the amount of data and products to be generated from the on-board advanced imagers and sounders. Users also need to prepare for changes in data formats, reception techniques, data types from geostationary sounders and the capabilities of 16-channel imagers. The SATURN site features a Reference User Readiness Project, with a generic timeline to guide user readiness planning.
This resource is made available courtesy of the World Meteorological Organization Space Programme and is not produced, owned or hosted by UCAR/COMET.