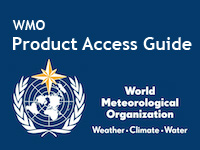 This content is not hosted on MetEd.
No quiz for this resource

Share this resource:
The Product Access Guide is a web-based resource maintained by the World Meteorological Organization to (i) facilitate online search for quality-controlled, documented satellite-based data products from providers worldwide, related expert groups, and training material, (ii) enhance the visibility of satellite data products and related material; (iii) address insufficient awareness of users, especially in developing countries. The Product Access Guide complements the WMO Information System and allows a more targeted search experience than Google or the GEO portal.
This resource is made available courtesy of the World Meteorological Organization Space Programme and is not produced, owned or hosted by UCAR/COMET.