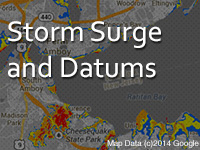 Take the quiz?

Share this resource:
This lesson introduces forecasters to the orthometric and tidal datums used to describe tropical cyclone storm surge measurements and forecasts. It provides a general overview of how to interpret storm surge forecasts using various vertical datums.
This online lesson is part of the Tropical Cyclone Storm Surge: Forecasting and Communication course.