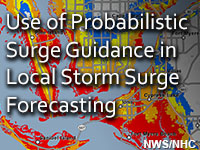 Take the quiz?

Share this resource:
This lesson introduces forecasters to the probabilistic storm surge guidance used by the National Weather Service to assess local surge threats and impacts. It will provide practice in determining the chance that critical surge thresholds may be reached or exceeded and when this is most likely to occur. Developing an appropriate message for decision-makers and the public that includes potential surge values, threats, and impacts information is also explored.
We strongly recommend reviewing the "Introduction to Tropical Cyclone Storm Surge", "Forecasting Tropical Cyclone Storm Surge", and "Storm Surge and Datums" before beginning this lesson. Without these prerequisites, learners may find this lesson very challenging.
This online lesson is part of the Tropical Cyclone Storm Surge: Forecasting and Communication course.