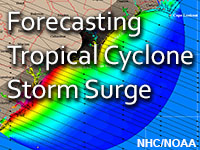 Take the quiz?

Share this resource:
Explain how probabilistic surge guidance is created, and why it is preferred to deterministic-only surge guidance for specific events, given the assumptions and potential errors associated with deterministic predictions.
Explain the different forms of probabilistic storm surge guidance, and describe the purpose and use of each.
Explain how the Maximum Envelope of Water (MEOW) and Maximum of the MEOW (MOM) are developed, and describe their purpose and use.
Use surge guidance and output in its various forms (i.e. MEOWs, MOMs, Probabilistic Storm Surge) and at various phases of the event.