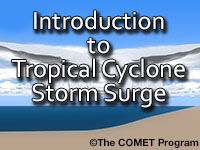 Take the quiz?

Share this resource:
This lesson introduces forecasters to the physical processes and impacts of tropical cyclone storm surge. It provides an overview of the factors that affect storm surge, how it is measured, and the limitations associated with storm surge data.
This online lesson is part of the Tropical Cyclone Storm Surge: Forecasting and Communication course.