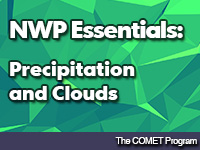 Take the quiz?

Share this resource:
Both the processes of convection and of rainfall formation are typically subgrid scale, and require parameterisation. This lesson examines two types of precipitation parameterisation used by models:
Convective parameterisation
Microphysics
The lesson also discusses how to identify when these parameterisations are not performing well and steps to address the issues that arise.