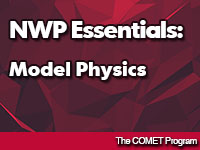 Take the quiz?

Share this resource:
After completing this lesson, you will be able to:
Identify effects that are smaller than NWP models can emulate (e.g. variations in surface characteristics that are smaller-scale than the NWP model resolution).
Cite situations where physical processes are important to the model forecast relative to dynamical processes.
State how basic radiative transfer processes are parameterized in NWP models, and which forecast parameters produce the largest source of errors.
State situations in which cloud structure and soil moisture parameterizations will work well, and those where they will work poorly.
Cite situations in which at least two physical parameterizations will interact with each other, and the potential feedback effects.
Identify at least one consequence of errors in model physics (cloud structure and soil moisture) on model forecasts at and around a forecast location.
Identify at least two elements of NWP model surface parameterizations that affect surface/atmosphere exchanges and their impacts on the PBL.