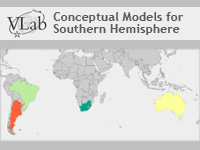 This content is not hosted on MetEd.
No quiz for this resource

Share this resource:
Conceptual Models for Southern Hemisphere is a joint project between four southern hemispheric regions: Argentina, Australia, Brazil and South Africa. The purpose of the project is to improve warnings and awareness of weather risks through the better understanding of weather through conceptual models. The objectives of the project are to produce and make available resources about Conceptual Models. These resources are available for other training institutions within the regions as well.
The number of southern hemispheric conceptual models in this catalogue will increase stepwise in the near future. Currently the catalogue includes eight Conceptual Model descriptions. All models contain six components: Appearance in Satellite Images, Meteorological-Physical Background, Key Parameters, Appearance in Vertical Cross Sections, Weather Events and References.
This resource is made available courtesy of Virtual Laboratory for Training and Education in Satellite Meteorology (VLab) and is not produced, owned or hosted by UCAR/COMET.