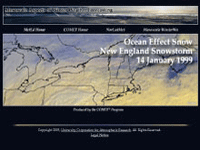 Languages: English
Publish Date: 2003-05-29
Skill Level:

2

Completion Time: 1.50 - 2.00 h
Includes Audio: yes
Required Plugins: Flash
Topics:
Winter Weather
Overall Rating:

(6 ratings)

Read or add reviews

Take the quiz?

Share this resource:
• Recognize the necessary synoptic precursors for an ocean effect snow event off the east coast of New England and Atlantic Canada. • Identify the mesoscale factors that lead to the establishment of ocean effect snow bands. • Recognize ocean effect snow bands from satellite and radar displays. • Recognize the potential for enhancement and eventual dissipation of ocean effect snow bands with the changing synoptic conditions.