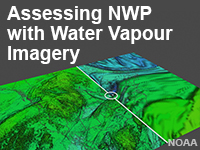 Publish Date: 2015-03-31
Skill Level:

3

Completion Time: 1.00 - 1.25 h
Includes Audio: no
Required Plugins: none
Overall Rating:

(16 ratings)

Read or add reviews

Take the quiz?

Share this resource:
You've seen it happen repeatedly. Forecasters have a tough forecast ahead of them. But how are they supposed to know which model data will be the best one to help them come to a conclusion about the situation? In situations like this, the first step should always be to assess the model data against a set of current observations that should show a 1-to-1 relationship with the model output.
Which variable should be plotted? On which surface? Which current observations will make the most sense to assess against? If you know the answers to some, but not all of these questions, find these answers and more by going through this lesson.