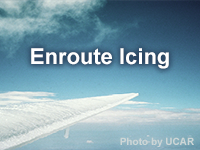 Publish Date: 2015-11-12
Skill Level:

2

Completion Time: 1.25 - 1.50 h
Includes Audio: no
Required Plugins: none
Topics:
Aviation Weather
Overall Rating:

(93 ratings)

Read or add reviews

Take the quiz?

Share this resource:
Aircraft icing has resulted in numerous accidents, some fatal. The problem is due, in part, to a lack of awareness on the part of aviation forecasters (and others) that icing is imminent. The lesson addresses this issue by presenting a process for forecasting enroute icing for aviation and applying it to a case over the Continental U.S. The process involves gaining situational awareness of potential icing areas and making a first forecast of their locations and flight levels; comparing the first forecast to NWP forecasts; and adjusting as needed. To reach a wide audience and stay current, the process goes up to the point of issuing products and warnings. The lesson is aimed at aviation forecasters in the United States National Weather Service's aviation facilities although international aviation forecasters should benefit from it as well.