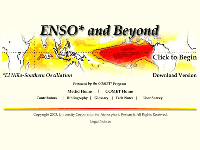 Languages: English
Publish Date: 2003-05-02
Skill Level:

2

Completion Time: .30 - .45 h
Includes Audio: yes
Required Plugins: Flash
Topics:
Climate
Overall Rating:

(155 ratings)

Read or add reviews

Take the quiz?

Share this resource:
This Webcast, presented by Dr. Marty Hoerling of NOAA/CIRES/Climate Diagnostic Center, discusses the impacts of El Niño and La Niña variability on both North American and tropical weather. The presentation shows that these two phenomena are not simple inverses of each other and that anticipating their varying intensities is key to making successful climate forecasts. Two other ocean impacts that affect North American climate almost as strongly as ENSO are also introduced.